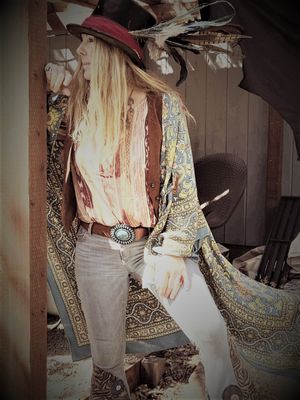 Bio
Stone Horse is a Southern California based rock n roll outfit reminiscent of the 1970's era festival bands. Fronted by songstress Dani Spade a' la Joplin-Tyler, the live connection is what it's all about. 
It started in the summer of 2009, when La Jolla High Alumni, Dani Spade and Carlos Rodriguez put their musical heads together and wrote songs reminiscent of their early 70's British and American rock influences. A catchy, driving 10-song album entitled "GRIT" ensued and was nominated "Best Rock Album" in 2014 by The San Diego Music Awards. Their southern rocker ballad "Remember When" received a nomination for "Best Rock Song" in 2015 by The Indie Music Channel.  
Not unlike the neighborhoods that make up their city, the band's second full-length studio release, "Nobody Rides For Free", became a musical melting pot blending Blues, Rock, and even a bit o' Country twang. However, doing what they do best at the end of the day, the result was good old rock 'n' roll. Their first single "Look What I've Done" was released as a music video in April 2016 and the album followed shortly in the fall. 
Their next music video "Time To Say Goodbye" shot in the spring of 2017 and written by band member Jim Nau, won "Best Americana Song" by The Indie Music Channel Radio Awards, and was nominated "Best Americana video under $5000" at The 2018 Indie Music Channel Awards. 
While their willingness to jam all night was making them a staple at the local bars, fairs and festivals around Southern California, the Spade/Rodriguez duo co-wrote songs with guitarist and producer Jim Nau for a new album entitled "Gotta Get Back" released in November 2018. Receiving a nomination for "Best Rock Album" of the year for 2018 by The San Diego Music Awards, "Gotta Get Back" delivers all those elements of what people define as rock 'n' roll...gospel, rock, country and blues. 
The year  2020 provided the much needed time to square away a new bass player and write their latest album "Stone Horse IV" which was released in the summer of 2021 on vinyl,  and two new music videos - "Losing My Way" which won best Special video at The 2021 Indie Music Channel Awards and "The Fastest Jack" followed. Their song "California Rain" also took home Best Rock Song at the Indie Music Channel Awards.
Under the reins of Dani Spade, Stone Horse continues to broaden their sound after ramblin', timeless acts such as The Allman Brothers Band, The Stone Poneys, Bad Co and Aerosmith while still remaining unique to their own unformulaic brand of rock 'n' roll. 
Stone Horse consists of
Dani Spade-lead vocals and harmonica, Neil Hedegard- guitar,  Andrew Fakhouri-guitar, Johnny Rhinestone-bass , John Flood-drums, Terry Lee Fenwick-keys